Sophie York - 2018 Address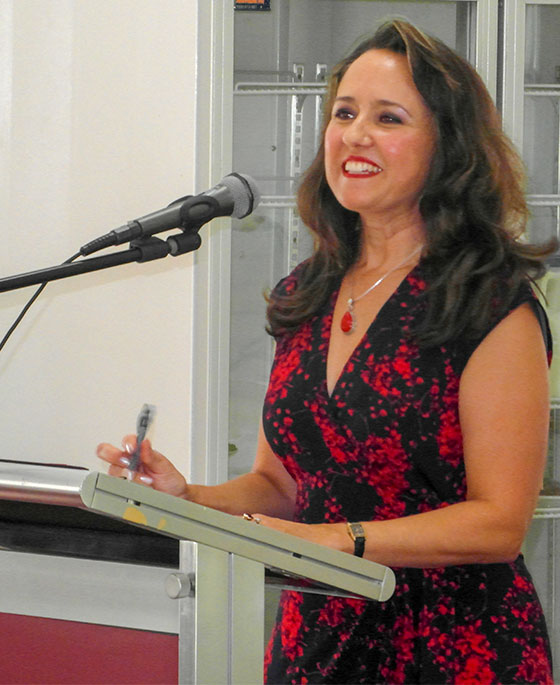 Sophie York addressing ACM (Toowoomba Branch)
Sophie York from Sydney was guest speaker at the ACM Toowoomba Branch OGM on 11 March 2018. Her overall title was 'Australia – the best country on the planet. How do we keep it that way?'
The text for her address is available for download with links to the the audio below.
Sophie York is a dedicated wife and mother of four sons, engaging speaker and writer, barrister, university lecturer, and Naval Legal Reserve Officer.
She lectures in Jurisprudence (Legal Philosophy) at Sydney University, and is presently preparing a course on 'The Law of War', for Notre Dame University.
She is on the Board of Campion College, a tertiary institution offering a classic Liberal Arts degree, in the Western suburbs of Sydney, and which hosts the Centre for Western Civilisation.
Sophie is also the National Spokeswoman for Marriage Alliance, which fought to save Marriage in Australia remaining between a man and a woman. Marriage Alliance works together with a group of 100 like-minded groups, who jointly form 'The Coalition for Marriage'. They are now concentrating on securing the protection of religious freedom in Australia, and have made submissions to a Review Panel, chaired by Philip Ruddock, which will report to government at the end of May 2018.
Sophie York - Audio
Click/tap numbered tracks below.
Track 1 Introduction by Dr John Standley (1:30 - 2 MB)
Track 2 "Australia: The best country on the planet. How do we keep it that way?" (32:50 - 60MB)
Track 3 "The Marriage Campaign in Australia and its impact" (6:00 - 11MB)
Track 4 "An ACM update" (29:19 - 56MB)
Track 5 "Brexit and what's next for the United Kingdom?" (16:59 - 33MB)
Track 6 Vote of thanks by Dr David van Gend (5:53 - 11MB)
Note: The above audio files are .mp3 format that should play without andditonal software on all devices. If asked to download, save in your preferred location and then open the audio file.